Dear international readers!
This brief note is intended for those of you who take an interest in historical recordings of classical music, and might otherwise miss some recent Swedish issues on CDs (and downloads). They come from the indefatigable veteran restorer of Swedish sound documents Carl-Gunnar Åhlén, whose website www.aahlen.se lists a huge range of his LP and CD issues now going back 50 years. Many of these have been on the Caprice label in a series called Collector's Classics, whose issues always come with long and informative notes by Carl-Gunnar. In recent years, and like many small-label releases, you almost need to know about their existence to find them, and sadly the extensive texts are given only in Swedish.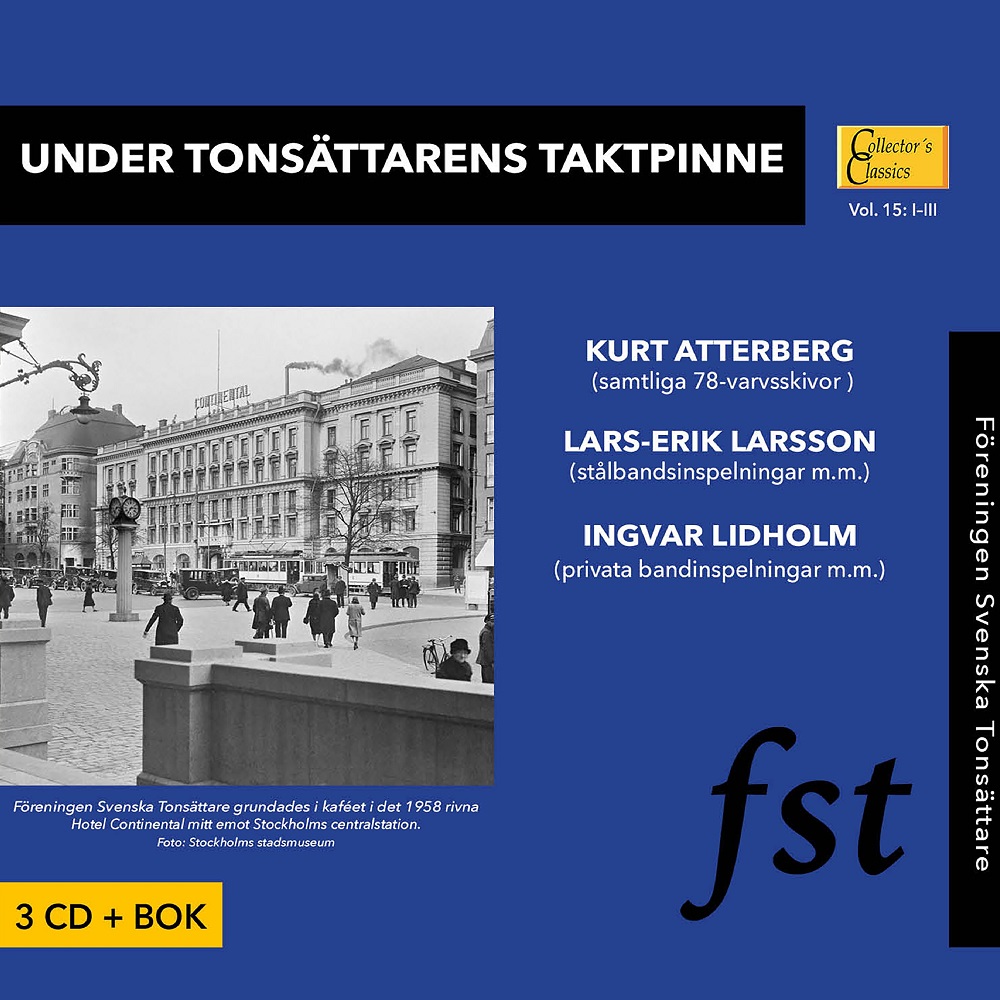 Göran Forsling wrote at length about Volume 14: www.musicweb-international.com/classrev/2019/Jun/Peterson-Berger_finds_CAP21910.htm . It is a 3-CD collection of music by Wilhelm Peterson-Berger (1867–1942) performed by himself and his contemporaries, and dominated by act 1 and 2 (of 3) of his major opera, Arnljot, in recordings from the Stockholm Opera in 1942. Swedish readers can find my reflections on the same website as this note: www.vivaopera.se/2019/03/31/wilhelm-peterson-berger-p-b-tidsfenomen-eller-alltjamt-relevant/. Like the other issues in the Caprice series, it can be purchased through online shops, including its Swedish distributor: https://naxosdirect.se/labels/caprice-438 .
But now there are also two more volumes. Volume 15 can be translated "Under the composer's baton" ("Under tonsättarens taktpinne") and consists of one CD each for Swedish composers Kurt Atterberg, Lars-Erik Larsson and Ingvar Lidholm – three important figures in Swedish music during most of the 20th century. One reason for this issue is last year's centennial for the Swedish Society of Composers, which was formed in 1918 to protect the interests of the creators of Swedish classical music, and promote it at home and abroad. Each of these three famous names is heard on rare recordings on 78s and broadcasts, and a very full background to their work is provided in the extensive programme notes – but alas only in Swedish. Let's hope the texts will become available for download, so that non-Swedes will at least be able to use automatic translation to get a general impression of them.
Volume 16 may be even more important for an international audience, as its subject is Wilhelm Stenhammar. In recent years several of his works finally are being played also by orchestras outside Sweden, and here you can hear his major symphonic works performed by a conductor and orchestras that had played them under his own direction. He died in 1927, and the box is called "The Heritage of Wilhelm Stenhammar". In spite of its English title, this 4-CD box also has only Swedish documentation. Three of the four discs are given to Tor Mann (1894–1974): both symphonies, and the orchestral Serenade. Almost half of these three CDs is given to rehearsals in 1959, in good sound, where Mann works his way through the second symphony with the Stockholm Philharmonic – maybe not for repeated listening, but quite interesting if you wonder about authentic tempi, accents, and dynamics.
The final CD is with the Gothenburg SO and its then chief conductor Sixten Eckerberg (1909–91). In 1945–48 he made pioneer recordings on 78s for the Swedish radio label Radiotjänst of Stenhammar's second piano concerto (with soloist Hans Leygraf) and the second symphony. They were sold commercially, but are probably quite unknown to international buyers of the recent recordings by Christian Lindberg or Herbert Blomstedt of this symphony, and this is their first reissue ever.
If you take an interest in Swedish music of the 20th century, I think you should acquire these inexpensive new issues. Transfers are from good originals, but quite heavily filtered. I know many listeners prefer it that way, although I personally would have kept more hiss and crackle in order to hear more of the higher frequencies. But this is a minor complaint. My main reaction is gratitude to Carl-Gunnar Åhlén, who must by now have produced about fifty historical Swedish releases – most consisting of many CDs, and with immensely interesting notes. Earlier issues sometimes had information also in English, but specialist listeners will probably be able to scan the Swedish texts and get some information out of them.
Nils-Göran Olve